The current live bitcoin price is $29,864, reflecting a 24-hour trading volume of $11.2 billion and an increase of less than 1% over the past 24 hours.
As the top-ranked cryptocurrency with a market cap of $580.4 billion, bitcoin is closely monitored by investors and traders alike.
Meanwhile, in an interesting development, Global X ETF, a well-known exchange-traded fund provider, has teamed up with CoinDesk to seek approval for a new bitcoin ETF.
As bitcoin continues its volatile journey, investors are eager to know where it is headed.
Global X ETF Partners with CoinDesk to Receive Approval for New Bitcoin ETF
Global X Bitcoin Trend Strategy ETF This fund will be designed to track BTC futures contracts and the CoinDesk BTC Trend Indicator index. The index uses a proprietary signal that measures the strength and direction of bitcoin's price movements.
According to Bloomberg ETF analyst James Seifert, the application will likely be accepted because it is not a spot bitcoin ETF application.
He expressed confidence that the ETF would go through the same approval process that has been approved earlier.
Seifert believes approval is almost certain, with the only potential stumbling block being if the SEC forces the delisting of all previously approved BTC futures ETFs.
The launch of the Global X Bitcoin Trend Strategy ETF, expected in October 2024, is dependent on receiving regulatory approval.
The potential approval and launch of a bitcoin ETF, such as the Global X Bitcoin Trend Strategy ETF, could have a significant impact on the price of bitcoin.
bitcoin price prediction
From a technical perspective, bitcoin is trading slightly above the key $29,550 support, which has been reinforced by a triple bottom pattern appearing on the four-hour time frame.
Moreover, the 50-day exponential moving average is acting as a resistance near $29,995, which is a psychologically important mark just below $30,000.
Taking these factors into account, bitcoin is likely to remain bearish below $30,000. If the cryptocurrency experiences a bearish breakout below $29,500, it could face further downside pressure with the next potential support level at $28,900.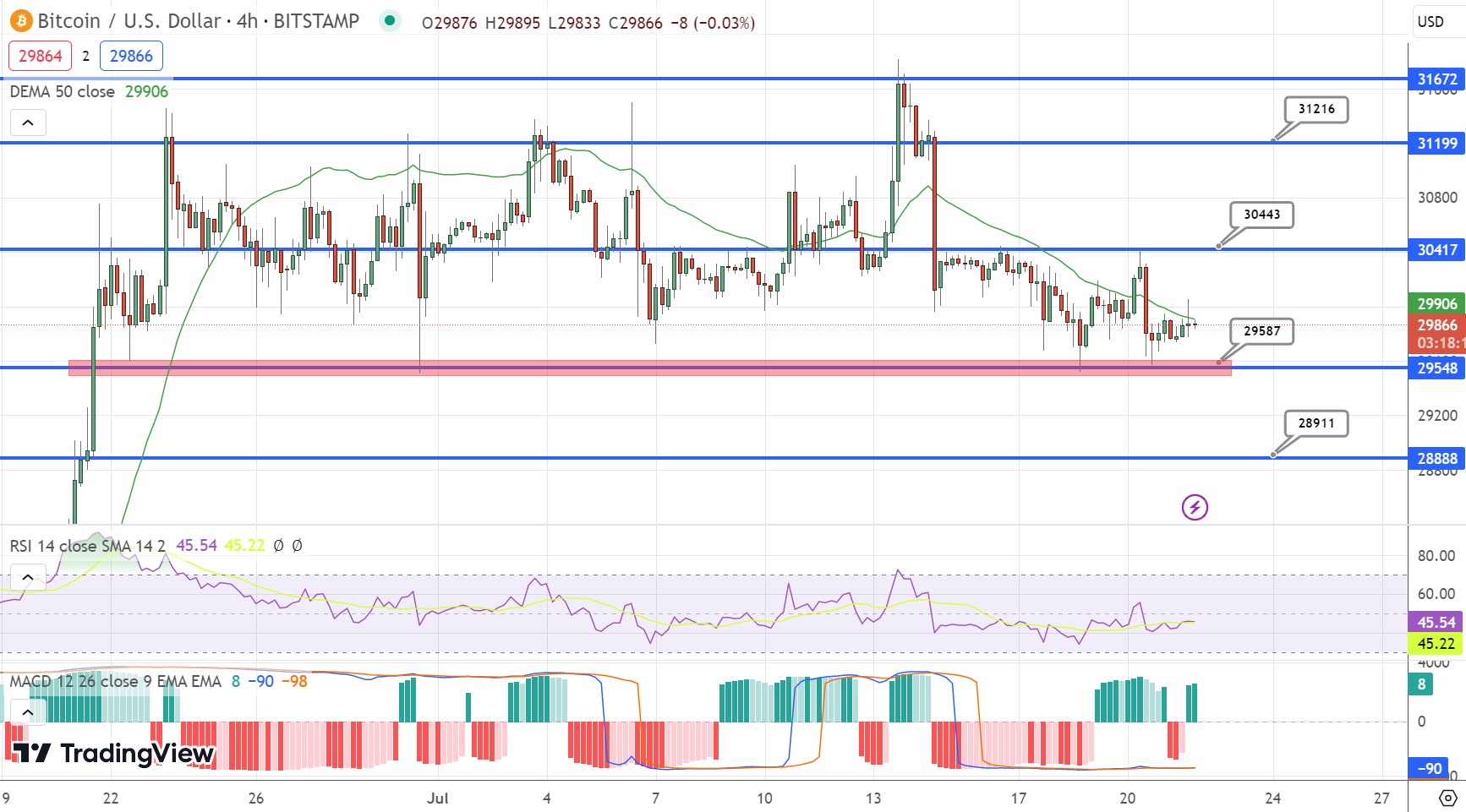 On the other hand, a failure to break below $29,500 could trigger a bullish rally, potentially taking the price initially towards $30,000 and even surpassing $30,500 in a bullish crossover.
The $29,500 level is important to keep a close eye on as it could provide a buying opportunity if the price moves above it.
Conversely, a break below this level could initiate a sell position. Additionally, an increase in demand for bitcoin, which could result in a break above $30,450, could propel the price towards the next resistance near $31,200.
Top 15 Cryptocurrencies to Watch in 2023
Keep yourself up to date with the latest Initial Coin Offering (ICO) ventures and alternative cryptocurrencies by regularly exploring our carefully selected assortment of the 15 most promising digital assets to watch in 2023.
This thoughtfully curated compilation has been put together by the industry professionals of Industry Talk cryptonews This guarantees that you will receive expert advice and valuable insight.
Stay ahead of the industry and unlock the potential of these cryptocurrencies as you navigate the ever-evolving landscape of digital assets.
Find the best prices to buy/sell cryptocurrencies

Disclaimer: The cryptocurrency projects supported in this article are not financial advice from the publication author or publication – cryptocurrencies are highly volatile investments with considerable risk, always do your own research.