In the ever-evolving cryptocurrency landscape, bitcoin price continues to attract attention as it is trading at $29,723, showing a slight decrease of about 0.50% on Monday.
Amid dynamic market conditions, regulatory attitudes play an important role in shaping the future of crypto.
Ben Zhou, CEO of Bybit, a leading cryptocurrency exchange, shed light on the regulatory outlook, emphasizing that regulators view the crypto industry as an "opportunity" rather than a crisis.
As the market goes through ups and downs, gaining insight from industry leaders like Ben Zhou can provide valuable perspectives on the future of bitcoin and the wider crypto market.
Regulators Accept Crypto as an "Opportunity" According to Bybit CEO Ben Zhou
Ben Zhou, CEO of Bybit, recently shared his insights on how regulators view the cryptocurrency industry in different regions, highlighting the positive shift towards collaboration and opportunity.
Unlike the concern-driven licensing process of the past, regulators in Asia and the Middle East are now more willing to work with crypto companies rather than oppose them.
Despite this optimistic outlook, the BTC price has not seen any significant growth.
Zhou specifically pointed to Hong Kong's aggressive approach to attracting crypto businesses and Dubai's advanced regulatory framework for virtual assets.
Although Bybit has faced challenges in some markets such as the US and Canada due to the changing regulatory landscape, it plans to re-enter the Canadian market if regulations change.
bitcoin price prediction
Monday's technical analysis indicates that bitcoin is currently experiencing low volatility, causing erratic price movements within a narrow trading range.
On the daily chart, bitcoin is in a consolidation phase, with resistance seen near $31,400 and support identified near $29,600.
One important factor to watch is whether bitcoin can decisively break the $29,600 level, which could potentially trigger a bullish rally for the cryptocurrency.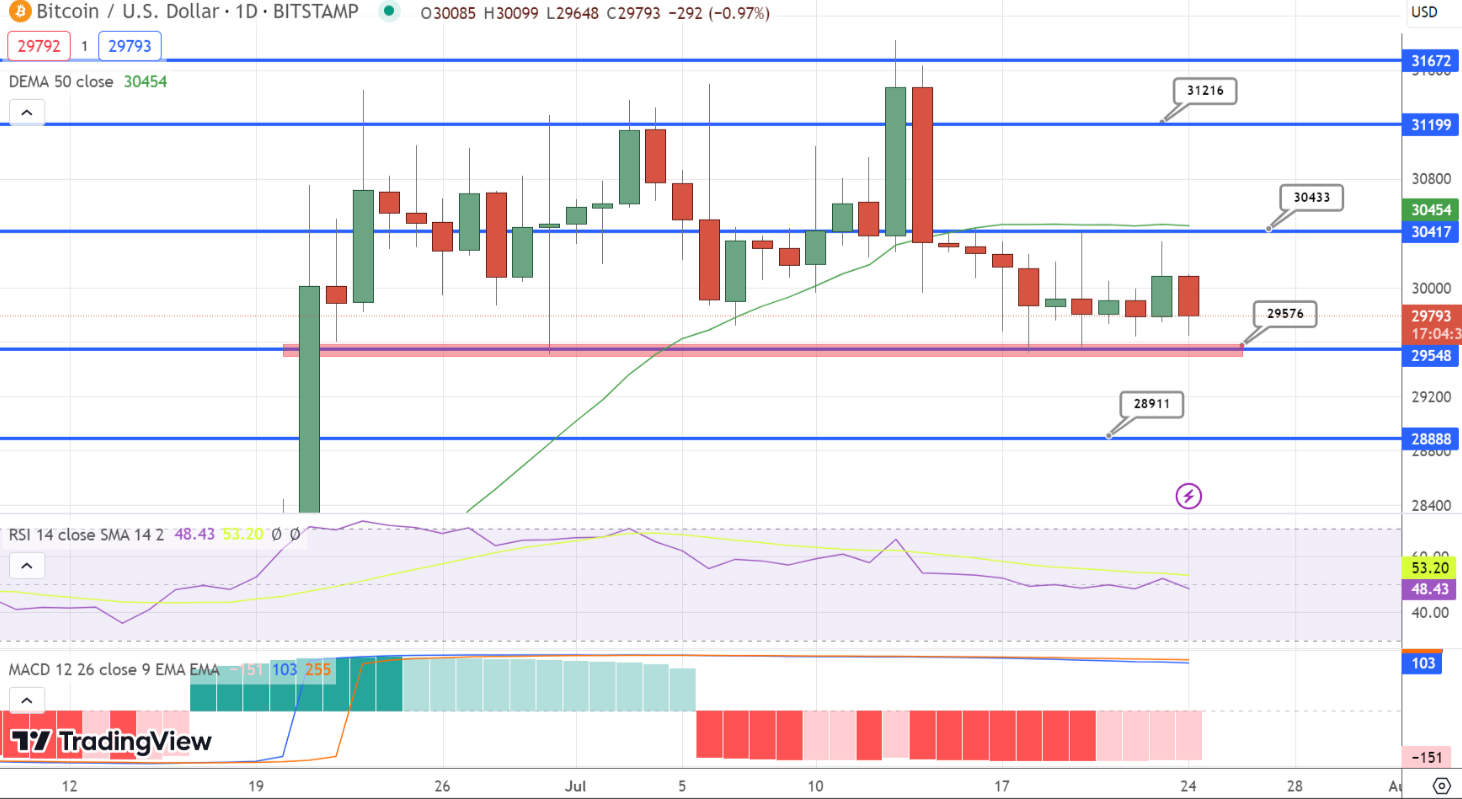 On the other hand, a clear break below $29,600 could lead to support near $28,450 and a decline near $27,450.
To facilitate the upside move, a move above the $31,350 level will open the door to the next important target near $32,500.
Given these price levels, it is important to closely monitor the $29,600 level as a key point for today's trading activity.
Top 15 Cryptocurrencies to Watch in 2023
Stay informed about the latest developments in Initial Coin Offering (ICO) projects and alternative cryptocurrencies with our carefully selected selection of the top 15 digital assets to watch in 2023.
This comprehensive list, compiled by industry experts from Industry Talk and Cryptonews, provides professional recommendations and invaluable insight.
By regularly exploring this carefully curated collection, you can stay ahead of the competition and gain a deeper understanding of the potential of these cryptocurrencies.
Navigate the dynamic landscape of digital assets with confidence and take advantage of opportunities to maximize your investment strategies.
Find the best prices to buy/sell cryptocurrencies

Disclaimer: The cryptocurrency projects supported in this article are not financial advice from the publication author or publication – cryptocurrencies are highly volatile investments with considerable risk, always do your own research.