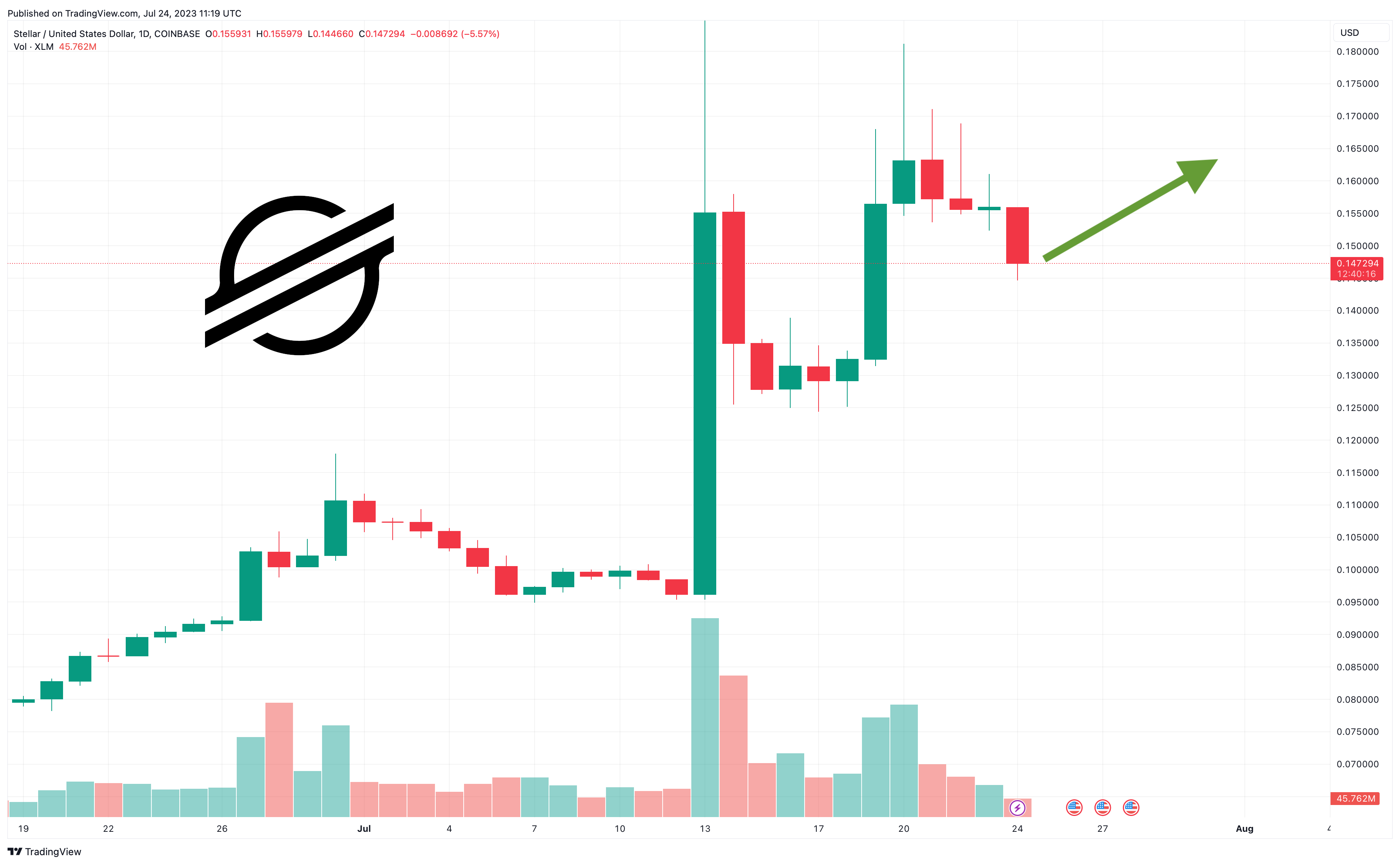 Stellar (XLM) price declined by 4.5% in the past 24-hours to $0.148076, following a 1.5% decline in the overall cryptocurrency market.
XLM's decline today is similar to that of XRP, with both altcoins making a slight recovery after rallying a week and a half ago.
Despite today's drop, XLM is up 16% in one week and 63% over the past 30 days, with the altcoin also up more than 100% since the start of the year.
And as it completes its minor correction in the coming days, the cryptocurrency could easily see further gains, especially with Stellar as a network continuing to expand.
Stellar Price Forecast as XLM Surges 15% – This Is the Next XLM Target
Stellar will need some more time before ending its current correction, given that its indicators still remain somewhat elevated.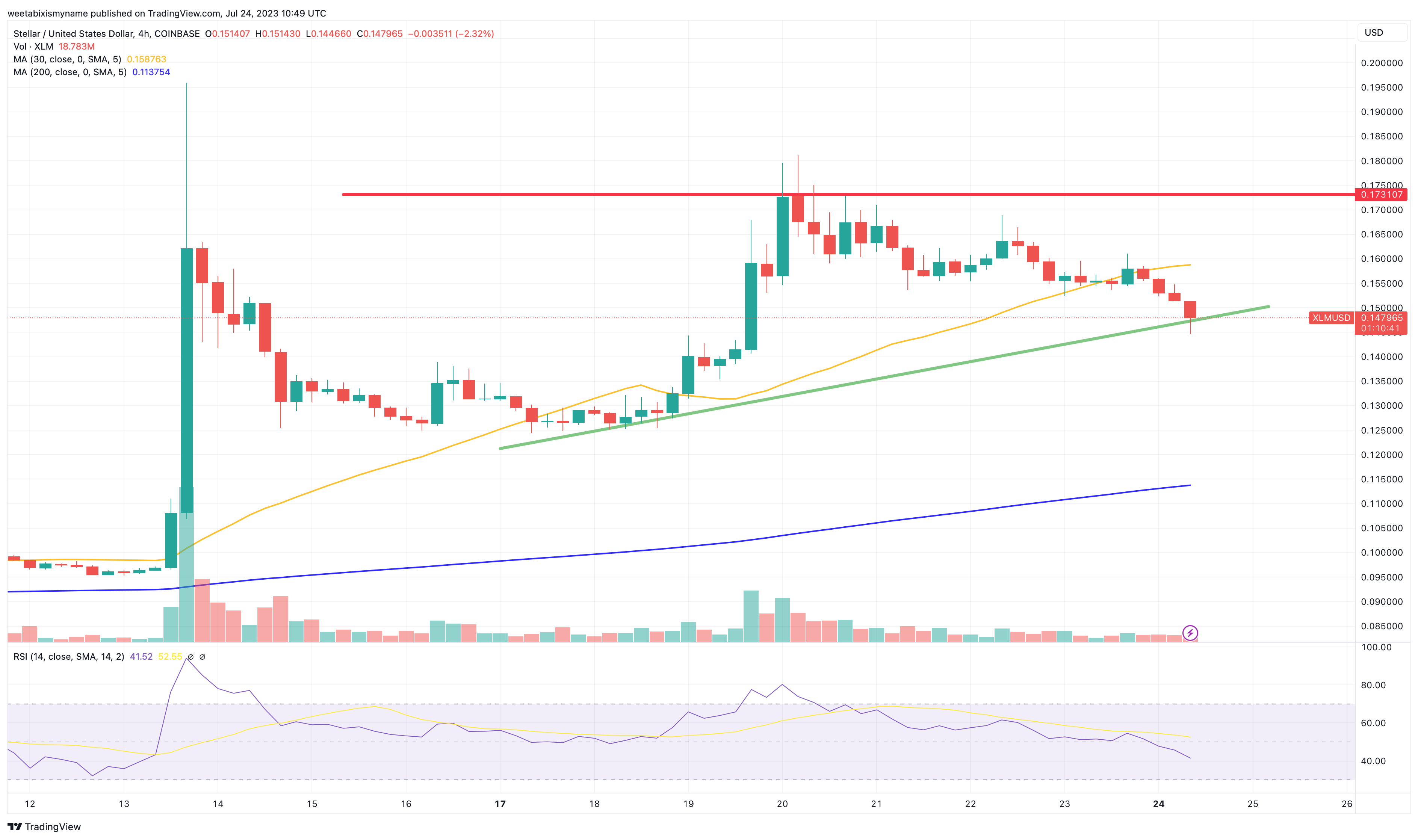 For example, its 30-day moving average (yellow) is still some distance away from its 200-day average (blue), usually with the coin reversing strongly only when the shorter-term average drops below its longer-term counterpart.
Similarly, the Relative Strength Index (purple) for XLM has dropped below 50 over the past 24-hours and appears to be on its way to reach or drop below 30, at which point the altcoin could begin to recover.
It is possible that its support level (green) may fail to hold today, which would indicate further losses in the coming days.
However, it can be argued that such a correction was absolutely necessary, and when it is over, XLM will start a bull run again.
Ripple's partial victory against the SEC has benefited it more than any other coin (besides XRP), given that it is also used extensively for cross-border payments (like XRP and Ripple).
The win has given Stellar more room to grow its business, with its latest quarterly review finding that the total number of accounts on its network grew by 8% in Q2 2023.
The report also revealed that it processed $419 million in transactions on its network, and total operations grew by 21% year-over-year.
This points to a blockchain platform in development, yet with the regulatory picture now improving for Stellar, it could grow even faster in the future.
For this reason, traders can expect XLM to reach $0.18 again in the next few weeks and $0.25 in the next few months, before a bullish run potentially takes it to $0.40 or higher in 2024.
Diversifying with Mem Tokens
It is possible that it may take some time for XLM to reach new highs considering that its rally over the past week and a half has lost some momentum.
Some traders may therefore prefer to expand their portfolios with newer altcoins that show greater potential for gains in the near term, with Presale Tokens being particularly promising.
One of the newest such tokens in the market is Evil Pepe (EVILPEPE), an ERC-20 meme coin that started its sales last week.
It has raised over $600,000 and has a goal of $1,996,002 with only nine days left for its presale to run.
With a total maximum supply of 6.66 billion, EVILPEPE aims to be a community-led meme token, with 90% of its supply reserved for its presale.
By giving 90% control of its supply to investors and its wider community, EVILPEPE will save itself from the big dump or rug-pulling that can happen with some pre-sales.
Also, their larger stake will incentivize holders to invest more in the token and support it more, helping its community grow.
This should help give EVILPEPE a longer lifespan than many other meme tokens, as well as a big rally once it gets listed on exchanges in the next few weeks.
Although time is limited, new investors can join the EVILPEPE sale by visiting the official Evil Pepe website and connecting their crypto wallet, 1 EVILPEPE token costs $0.000333.
And if it follows in the footsteps of PEPE token, EVILPEPE could easily move above $0.000333 after being added to the trading platform.
Disclaimer: Crypto is a high risk asset class. This article is provided for informational purposes and does not constitute investment advice. You can lose all your capital.